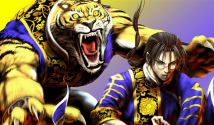 Japanese publisher Konami recently revived their trademark for Bloody Roar, a 3D fighting series that many PS1 / PS2 era fighting game fans may have fond memories of. Before you get too excited... a Bloody Roar fighting game is not confirmed at this point, as Konami could be planning a Japanese Pachinko title or a mobile game. Bloody Roar series aficionado Jerimiah spotted Konami's revived patent and revealed the news on Twitter, so thanks Jerimiah for bringing this to our attention. After taking a closer look at the filing, it's basically a continuation of their original 1997 filing - which is for the following:

"downloadable video game programs; recorded video game programs; downloadable video game software; recorded video game software; downloadable computer game programs; recorded computer game programs; downloadable computer game software; recorded computer game software."
Yeah, it could still be pachinko... or it could be... Bloody Roar 5 (which could make an interesting launch title for PS5).

In any case, we'll keep you up to date on whatever type of "game" Konami is apparently working on or planning. The last title in the series was Bloody Roar 4 in 2003, which released only on PS2.

Stay tuned on Fighters Generation for fighting game news.