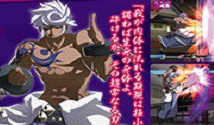 The late(st) arcade version of Under Night In-Birth released in Japanese arcades back in July 2015, adding 2 new characters to the game. Famitsu announced that Under Night In-Birth EXE: Late[st] will finally be coming to consoles - more specifically, PS4, PS3, and PS Vita - on July 20th. Along with the arcade version balance updates, the console version will have an additional character, Enkidu. Below, check out some screenshots and scans from Famitsu magazine, plus the first details on Enkidu (courtesy of Sourenga on Twitter).



Famitsu also reported that the new PS4/PS2/Vita port of Under Night In-Birth EXE:Late[st] will feature a new story mode called Chronicle Mode and a Challenge Mode that will teach players new combos.

Stay tuned on FightersGeneration.com for full coverage of the upcoming Playstation 4, Playstation 3 & PS Vita version of Under Night In-Birth: EXE Late[st]. No official release date has yet been announced.