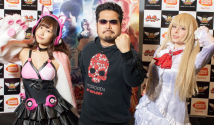 Replying to a fan on Twitter, TEKKEN producer Katsuhiro Harada confirmed TEKKEN 7 has surpassed 2 million copies sold on console. Considering the current demographic of gaming as a whole, and the fact that arcades no longer exist in most places (which used to be a major factor in promoting fighting games to the casual audience), a through-and-through fighting game selling 2 million copies in only 3 months is quite an achievement. For comparison's sake, Street Fighter V has moved only 1.7 million units since its launch back in February 2016.

Bandai Namco recently said TEKKEN 7 is on track to reach their target of selling 2.1 million by the end of 2017. Considering the first guest character for TEKKEN 7 (Geese Howard) is coming in Winter 2017, and yet another (unannounced) guest fighter will join the game in Spring 2018, the future of TEKKEN is looking more than healthy.


To compare more numbers... back in October 2009, the console version of TEKKEN 6 only managed to sell 1.8 million copies after being on sale for seven months. And TEKKEN Tag Tournament 2, even with all of its console content (and being a very 'complete' game at launch), TTT2 never broke 1 million units sold, maxing out at 0.85 million.


In any case, TEKKEN 7 reestablishing itself as one of the mainstay titles at eSports events and major fighting game tournaments like EVO has certainly helped with its popularity. Worth mentioning, TEKKEN 7 viewership numbers on Twitch for major tournaments (and streams in general) are by far the highest the series has ever seen. Perhaps the best days of TEKKEN are ahead of us...

Stay tuned on FightersGeneration.com for continued TEKKEN 7 coverage and news.