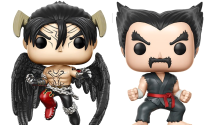 The original line-up of TEKKEN-themed Funko Pop! figurines (featuring Kazuya, Heihachi, Jin, Nina & King) are already starting to pop up at some retailers. However, it was just announced that several characters will have special "variant" versions which will appear at select retailers later this Spring. These variants include: Devil Jin, Young Heihachi, TEKKEN 5 Jin, Silver Nina, and King (with TEKKEN 7 Cape). After checking out the preview image below, continue reading to see which stores will be carrying the variants.


Below is a list of the specific retailers where you can find the variants - some already open for pre-orders. Of course, you'll likely see these variants pop up on Ebay and Amazon later on (but at a much higher price).

TEKKEN 5 Jin Kazama - Bandai Namco Store ($11.95)

Devil Jin - Gamestop ($11.99) *(releasing in May)

King (Cape ver.) - Best Buy *(releasing May 7th)

Young Heihachi - Gamestop *(releasing in April)

Nina (Silver ver.) - Wal-Mart *(releasing in May)

And here's an image of all the original versions of the figures, for comparison.