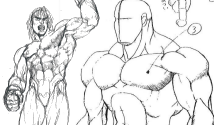 The exaggerated and vibrant art style of Capcom's influential Street Fighter series has strongly impacted the gaming genre over the past 3 decades, inspiring fighting game fans, aspiring 2D artists, and game developers alike. In 2017, Capcom Art Director Toshiyuki Kamei shared some "top secret" pages from Capcom's anatomy reference guide, which was originally compiled during the mid-90's. Some key pages from the guide are now public (and available here on TFG for your artistic inspiration / convenience).

This guide was edited by legendary Capcom artist Akira "Akiman" Yasuda and has been a staple reference used for teaching upcoming Capcom artists the ways of Capcom-style anatomy.

Below are 10 high-quality scans of pages straight from Capcom's legendary anatomy guide. *The captions are written in Japanese, but these artistic references are a priceless tool for any aspiring artist aiming to properly illustrate a "Capcom style" human.


Capcom's Toshiyuki Kamei mentioned that this anatomy guide is a "pretty old" document, but that it's "still very valuable" to Capcom. You can view some additional images from the guide over at Capcom's Japanese blog.

Stay right here on FightersGeneration.com for the best fighting game artwork.