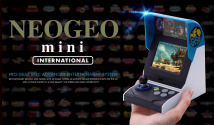 Pre-orders have opened up for SNK's NEOGEO Mini International. You can now pre-order the stylish NEOGEO Mini system which features a working 3.5" screen and comes with 40 games, an HDMI cable, game pad, and panel stickers for $109. Amazon states the system will be released on October 15th, 2018. SNK also released a new launch trailer for the NEOGEO Mini outlining all of its features... here it is below.


NEOGEO Mini International can currently be pre-ordered on Amazon and Gamestop.

Keep it right here on FightersGeneration.com, your best source for SNK news.