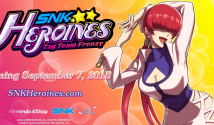 Nintendo released a new SNK Heroines: Tag Team Frenzy trailer today! The minute-long trailer confirms the return of King of Fighters series veteran Shermie as a playable character, and demonstrates some new gameplay of the stylish female grappler. The release date for the game was also announced! SNK Heroines: Tag Team Frenzy comes to Playstation 4 and Nintendo Switch on September 7th, 2018. Check out the April 2018 trailer below. [UPDATE] Added 8 official HD screenshots to the article!


The end of the trailer also teased this silhouette image (below) hinting at future character reveals. Recognize any returning SNK Gals?

(I'm betting the top left silhouette is one of the girls from Metal Slug.)


Stay tuned on FightersGeneration.com for full coverage of SNK Heroines: Tag Team Frenzy.