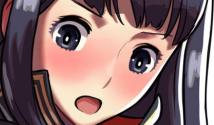 Samurai Shodown's Nakoruru is the latest female fighter to be revealed as a playable character for SNK Heroines: Tag Team Frenzy. Like other heroines in the game, Nakoruru appears in "unusual" attire that differs from her usual costume. And instead of being accompanied by her hawk, Mamahaha, it seems Nakoruru has a new vampire bat and chibi animal friends to fight with. The latest trailer also provides the first information on the game's zany and comical storyline... but don't try to make any sense of it just yet. Something about SNK's heroines being "knocked out" after a tournament, then a "dreadful plan" and a big battle "mystery mansion"?

Sounds a bit sketchy indeed.

In any case, enjoy the latest gameplay, artwork & screens!


Stay tuned on FightersGeneration.com for full coverage of SNK Heroines: Tag Team Frenzy.