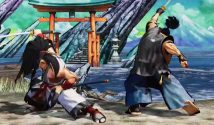 And it's NOT PACHINKO!

As promised, SNK has announced a brand new fighting game... and it's one that long-time SNK fans have been waiting for. A new Samurai Spirits (or as we know it in the West, Samurai Shodown) is planned for a 2019 release on PlayStation 4. The game features a new style of 3D graphics using the Unreal Engine, and looks to retain the look and feel of the original 2D series. The announce trailer (below) highlights the return of several fan-favorites from the original cast. [UPDATE] The official press release confirms that Samurai Spirits (2019) will still be called Samurai Shodown in the West.


Below are some HD screenshots along with some screen captures from the trailer.


This artwork shown in the trailer also seems to confirm the return of other series veterans not shown yet in gameplay.


You can check out the official website for Samurai Spirits (2019) here.

Stay tuned on FightersGeneration.com for more details on Samurai Shodown (2019).