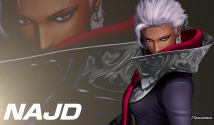 SNK posted an all-new DLC character trailer for The King of Fighters XIV. Back in September '17, Manga Productions held a social media contest in the Middle East for fans to create their own KOF character. "Najd" was the winning design, and her appearance in KOF XIV is finally official. Najd is a very quiet Saudi Arabian girl with extraordinary powers. She's a college student by day, but at night, she puts on her Abaya and turns into a vigilante to protect her fellow citizens. Check out Najd's full-length KOF XIV character reveal trailer below.


To recap, SNK recently announced Heidern, Oswald, and Najd as new DLC characters for KOF XIV. There is one remaining DLC fighter to be revealed!

Stay tuned on FightersGeneration.com for continued coverage of KOF XIV.