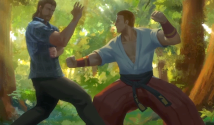 Earlier today, SNK released The King of Fighters: Destiny Episode 5 on Youtube. The 3D animation series continues with a "side story" featuring none other than the legendary Geese Howard. "When Geese was young, he was driven out from Stroheim Castle since his mother was not the legal wife of his father. After wandering on his own, he becomes a disciple of Tung. During his time there he harbors hatred for another disciple, Jeff, over who will inherit Tung's role and secrets."

Visually branching off from previous episodes, Episode 5's Geese side story uses a clean (and amazingly drawn) 2D art style to tell the origin story of Geese Howard (and another famed SNK boss, Wolfgang Krauser). Enjoy Episode 5 below, along with all previous episodes.


We'll post the next episode of The King of Fighters: Destiny as soon as it becomes available.