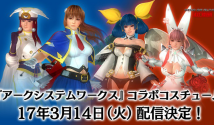 Koei Tecmo recently announced a collaboration with Arc System Works in bringing Guilty Gear and Blazblue costumes for Dead or Alive 5: Last Round characters. The first screenshots of this collaboration shows Kasumi as Noel Vermillion, Nyotengu as Dizzy, Hitomi as Tsubaki, and Honoka as Elphelt Valentine. These paid DLC costumes, along with 12 others, will become available March 14th (in Japan). Check out the first images below, and continue scrolling down for the first pricing details.


On Playstation 4, each costume will cost 286 yen and the full pack costs 3,175 yen. On Xbox One, costumes cost 300 yen each and 3,200 for the full pack. Lastly, it seems the PC version will only feature the full pack for 3,334 yen. Based on these prices, you can expect each costume to cost between $2.50-$2.99 USD and $29.99 for the full pack.

FUN FACT: To own every costume and all content in Dead or Alive 5: Last Round, it would cost you over $1000, making DOA5 potentially the most expensive fighting game ever made. Actually, the exact price for all DOA5 content stands at $1,117.34 (not including the Arc System Works costumes). Thanks to Rice Digital for recently pointing that out.