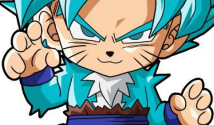 Dragon Ball FighterZ is getting a free update on September 26th, adding new Z Capsules with "Halloween-themed" character colors, lobby avatars, and stamps. These will be unlockable only for a limited time until the end of November. Check out official screenshots from Bandai Namco below. (And yes, that blue cat/fox-themed Goku costume is based off of DBFZ EVO '18 winner, SonicFox.) The screenshot directly below shows off some of the Halloween colors and the recently announced Android 17 on the selection screen.


Also arriving on or near the Sept. 26th free update is a new stage called "Galactic Arena". This stage will show each player's profile and stats on the screens in the background, or the DBFZ World Tour logo by joining an official tournament.


In earlier news, Android 17 was revealed as the next DLC character for the game. Check out Android 17's reveal trailer, character art & screenshots in TFG's previous article.

Stay tuned on FightersGeneration.com for continued coverage of Dragon Ball FighterZ.