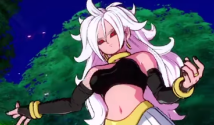 Bandai Namco and Arc System Works revealed the first gameplay of Android 21 in Dragon Ball FighterZ, including her official character trailer. For a more comprehensive look at Android 21, GameInformer posted a 5-minute gameplay video showing off her basics and special moves. Last but not least, we've got another 8 minutes of "Majin Android 21" stream footage to showcase her awesomeness. Warning: These videos may increase your appetite for sweet baked goods.

[UPDATE] Added Android 21 moveset breakdown video by Maximillian.


We've also got "Majin" Android 21's HD character artwork for your viewing pleasure.


Dragon Ball FighterZ comes to Playstation 4, Xbox One, and PC on January 26th, 2018. Stay tuned on FightersGeneration.com for continued coverage.