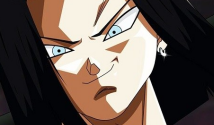 The latest issue of V-Jump has confirmed earlier rumors that Android 17 is coming to Dragon Ball FighterZ as the game's next DLC fighter. The scan from V-Jump shows the first images and artwork of Android 17, in addition to a new stage called "The Space Arena". Confirmed special moves for 17 include his "Barrier Explosion", "Super Electric Stike", and "End Game". According to the V-Jump scan (below), Android 17 will be added to the game later this month. [UPDATE #1] Added Android 17's reveal trailer, official character artwork and 6 screenshots, below.

[UPDATE #2] Additionally, DBFZ will get a free update on September 26th, adding new Z Capsules featuring "Halloween-themed" character colors, lobby avatars, and stamps. These will be unlockable only for a limited time until the end of November. Check out screenshots below. (Fun Fact: That blue cat/fox-themed Goku costume is based off of DBFZ EVO 2018 winner, SonicFox.)


Also coming in the free update is a new stage called "Galactic Arena". This stage will show each player's profile and stats on the screens in the background, or the DBFZ World Tour logo by joining an official tournament.


As far as Android 17's release date goes, there's still no official word from Bandai Namco (but we'll keep you updated). However, Cooler is set to arrive as DLC on September 28th. Considering all other DLC characters for DBFZ released in pairs, it's very possible Android 17 will also join the game on Sept. 28th

Stay tuned on FightersGeneration.com for continued coverage of Dragon Ball FighterZ.