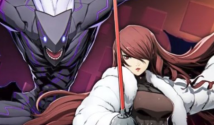 At the conclusion of EVO '18's BBTAG finals, Arc System Works officially announced 9 more characters for the game. BlazBlue's Mai Natsume, Izayoi, and Nine, Under Night's Merkava, Mika & Yuzuriha, and P4A's Mitsuru, Akihiko & Labrys will arrive in just a few days on August 6th, 2018. Additionally, at Cross Counter TV's Bar Fights, Arc System Works teased a new franchise coming to BlazBlue Cross Tag Battle. First up, check out the EVO '18 trailer for the new characters.


The teaser image below puts an emphasis on "colors" and reads, "A New Fate Intertwines..."


The "pink" square above represents the new franchise coming to BlazBlue Cross Tag Battle. Will Arc System Works be bringing a classic fighting game franchise into the fray (such as Arcana Heart?

)... or will they be introducing a new property with characters who haven't yet appeared in a fighting game? We should find out soon.

Stay tuned on FightersGeneration.com for full coverage of BlazBlue Cross Tag Battle.