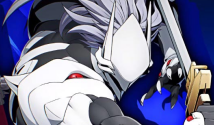 Arc System Works announced 3 more characters for Blazblue Cross Tag Battle, once again in the form of a new gameplay trailer. The new characters confirmed include Hakumen from BlazBlue, Naoto Shirogane from Persona 4 Arena, and Vatista from Under Night In-Birth. These 3 characters will be among the 20 DLC fighters for the game.


In related news, a beta test for BlazBlue Cross Tag Battle takes place next month for the Japanese PS4 and Nintendo Switch versions. For those who pre-ordered, players can join the PS4 beta on May 9th (4pm JST) through May 14th (12am JST). All other players can join May 12th (4pm JST). The Nintendo Switch version beta starts May 11th (4pm JST) and runs through May 14th (12am JST).

The beta version will feature 20 playable characters (non DLC characters), Casual Lobby, Tactics Mode (basics tutorial), VS CPU mode, and 2P Versus mode.

Stay tuned on FightersGeneration.com for continued coverage of BlazBlue Cross Tag Battle.