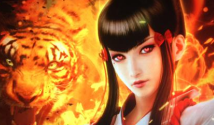 There aren't many badass female bosses in fighting games... and Kazuya's mother has something to say about that in TEKKEN 7. Now that the early version of TEKKEN 7 has launched in Japan, we're going to learn much more about Kazumi Mishima. At the moment, most arcade players are understandably enthralled with fighting online against others, so details & images regarding arcade mode are still scarce. Until we know more, enjoy the first screen grabs of Kazumi! [UPDATE] Scroll down for first gameplay video of Kazumi.


As you might expect, Kazumi has several Mishima-inspired moves. Boss Kazumi also transforms into a more powerful "Devil" version in the latest rounds and has a tiger "summon" projectile attack. Below are all the specifics we know about Kazumi Mishima so far:

Kazumi has the basic Mishima 1,1,2 and 1,2,2 attacks.

She has Jinpachi's floating u/f+3+4... not sure about follow-up.

She has a move similar to Jinpachi's d/b+2,1. (Low, High)

No Electric Wind God Fist has been seen yet.

Her Devil Form has laser attacks. She has a flying laser similar to Devil Jin's but has faster recovery animation (more like Kazuya's).

[UPDATE] Below are 2 videos showing Kazumi Mishima. The first video just shows her intro animation with her tiger. In the second video, Kazumi footage starts at 1:15.


On a side note, Kazumi's TEKKEN 7 concept artwork was also recently updated with higher quality versions. Check it out below.