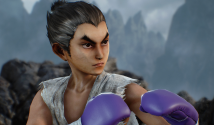 In addition to Lee Chaolan being announced, Bandai Namco provided new TEKKEN 7 screenshots revealing Kazuya Mishima as a child in story mode... and yes, he is playable! Further screenshots show off a beautifully ornate interior environment (appearing in Claudio's story mode), and a new story mode costume for Heihachi Mishima. After you check out the high-res screenshots, continue reading to learn new details on story mode!


[UPDATE] When asked if "Kid Kazuya" would be a playable character outside of story mode, producer Katsuhiro Harada said it depends on fan demand. "It depends. If there is enough demand, we will consider it." were his exact words.

New details on story mode: TEKKEN 7's story mode features "several hours" of gameplay and features past moments from the series history (such as Kazuya as a child fighting a young black-haired Heihachi). Story mode also players to "unlock" sub plots for various characters as the game progresses (such as Claudio's story and his group of exorcists). Also confirmed are specific story mode costumes for several characters. Finally, Claudio Serafino is integral to TEKKEN 7's storyline, as he 'holds the key' to defeating the Devil Gene.

"The Archers of Sirius are an exorcist group selling supernatural apparitions since time immemorial. The public has no idea of ​​the existence of the top-secret organization. Although unknown is how the group were unmasked, the Mishima Zaibatsu, the Archers of Sirius contacted and they desperately asked to join the conglomerate, which they refused, of course. That kept the Mishima Zaibatsu but of course not depend on to maintain pressure.

Of course, came the offer of the Mishima Zaibatsu to Claudio Serafino, the leader of the Archers of Sirius, by. To find out the motives of the powerful conglomerate, Serafino Mishima Zaibatsu begins to investigate."


Bandai Namco also released these official high-res screenshots of Lee in TEKKEN 7. Check out all of Lee's screenshots and his gameplay reveal trailer here!

Stay tuned on FightersGeneration.com for the latest TEKKEN 7 news from Gamescom!