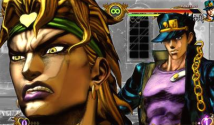 As you might've heard, JoJo's Bizarre Adventure: All-Star Battle scored a perfect 40/40 on Famitsu, making it the third fighting game in history to ever achieve this. With the game's release only 2 days away, today's latest coverage is some of the most detailed yet. Some recently translated magazine scans tell us all about System Basics, Customize, Stages, Situation Finish, and various in-game Modes and Styles. Scroll down to check out the translated scans (and you can click each one to open in a new window for easier reading). After the scans, there are even MORE details and the newest JJBA: ASB videos below!


That's not all... Below, get caught up on the very latest details on JoJo's Bizarre Adventure: All-Star Battle and enjoy some of the latest videos in HD:

Shigekiyo Yangu aka "Fatty" is the latest character announcement, and will be DLC. He's actually the mangaka's 9th favorite character. Interestingly enough he won't have a "normal mode." Apparently, his stand (Harvest) will always be active in battle. He'll be voiced by Kappei Yamaguchi. Shigekiyo DLC will be purchasable on launch for 600 Yen ($6.06). Here's a magazine scan confirming Shigekiyo.

There will be more characters announced in the near future. CyberConnect2 plans to have many more "tricky" and "technical" characters to balance out the variety of gameplay even further.

Campaign Mode is different from Story Mode. Campaign requires you to customize your character and play online against others customized characters. Upon winning, you'll earn medals and other items. Campaign Mode will constantly be updated after release. Story Mode still has some mystery surrounding it, but will take at least 8 hours to complete. And if you go for 100% completion, it's expected to take 80+ hours!

"Cancels" of some sort can be seen during gameplay, seemingly adding quite a bit of depth to the gameplay mechanics.

Counter Hypers have been confirmed. The finale of PV 3 wasn't exactly for show. Certain characters apparently have the opportunity to turn around a hyper by doing certain inputs at certain times. Who this all works for is unknown aside from Jotaro vs Dio.

Yoshikage Kira is going to be released day one as DLC, as suspected.

Fun Fact: The opening movie of JoJo's Bizarre Adventure: All-Star Battle took 4 months to make.
New JJBA:ASB Videos:

The opening movie, now in HD:


New TV spot:


Battle League Finals Round #1:


Battle League Finals Round #2:



A PS3 exclusive, JoJo's Bizarre Adventure: All-Star Battle will be released in Japan on August 29th. No English version has yet been announced. However, the game is region free, so fans who want to import can easily do so. (TFG recommends you order the game through our affiliate, Play-Asia.com... (Just ordered mine!)
For more info on JJBA: All-Star Battle, check out TFG's preview profile!