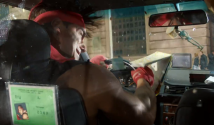 With the launch of Playstation 4 upon us, we can surely expect great things coming to the fighting genre in the near future. The latest tease for us fighting game fans appears in this high budget European PS4 launch commercial. The TV ad actually begins inside Ryu's taxi, featuring none other than the weird Ryu cosplayer from last week's Hadouken Cabs video.



Below is a screen grab from the video. If you look behind the driver's seat, you can clearly see Ryu's SF4 select portrait. Hmm...

All we can do for now is speculate... but clearly, Sony wants us to know that Street Fighter will be making its way to PS4 in some form or another.

With Namco Bandai's Tekken X Street Fighter on the horizon, it's almost a given that the upcoming crossover game will be appearing on next-gen systems. Also, Ultra Street Fighter IV will be arriving on PS3 & Xbox 360 next year (after the arcade launch in April 2014)... but could a visually enhanced version also be in development for PS4? Time will certainly tell.