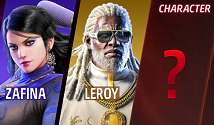 TEKKEN 7 producer Michael Murray was featured in this new video interview with Shacknews / Gamerhub (below). The interview starts off with Murray talking about the first new character in TEKKEN 7 Season 3, Zafina. After running through some of Zafina's evolutions in T7, the interview continues with Murray and the interviewer excited for the series return to "real martial arts" with the upcoming new character, Leroy Smith, the Wing Chun expert. Michael noted that many TEKKEN fans have been asking for a new authentic martial arts-based character for years now, with Wing Chun being at the top of the list. Murray doesn't go into much detail about Leroy's fighting style, but stated Leroy will be coming to the game this Winter. Finally, Michael notes that the Season 3 roadmap does not include a new guest character, but fans can expect another new (or returning) character and feature to be revealed for the game in "early 2020".


Here's a look at the current TEKKEN 7 Season 3 roadmap. In addition to 2 more characters, new Features "My Replay" and "Tips" will be added to the game in the future.


It should be noted that even though a guest character isn't currently planned for Season 3, we shouldn't "rule out" a potential surprise character reveal at a future TWT event. Lest we forget, Akuma and Geese Howard were not previously announced via Season Pass for DLC (or leaked) before their surprise arrival.

Stay tuned on FightersGeneration.com for upcoming TEKKEN 7 Season 3 news.