Thursday, November 14th, 2019

Katsuhiro Harada Talks Fighting Games, Martial Arts, and How They Relate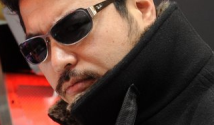 Martial arts and traditional fighting games have a lot in common, especially a hand-to-hand 3D fighter like TEKKEN. For those of you frequent to this website, you might know this is something near and dear to yours truly... as I've mentioned this aspect in countless of my game and character reviews over the years!
Producer Katsuhiro Harada was recently featured in a new video on the official TEKKEN Twitter, where he talks for 2 minutes about this very interesting and timeless topic. Click the tweet below to watch the full video!


Stay right here on Fighters Generation for more TEKKEN news! ~TFG Webmaster

Sources: TEKKEN (Twitter), Bandai Namco
Related News: (11-12-2019): TEKKEN 7 Update 3.03 is Live, Full Patch Notes,
(10-27-2019): TEKKEN 7 Winter Update Includes In-Game Frame Data,
(9-25-2019): TEKKEN 7 Season 3 Will Not Have Guest Character Says Murray,
(9-5-2019): TEKKEN 7 Season 3 Arrives Sep. 10th, Full Patch Notes,
(9-2-2019): Rapper T-Pain Cosplays TEKKEN 7's Leroy Smith,
(8-4-2019): TEKKEN 7 Season 3 Announced at EVO 2019,
(7-25-2019): King of Fighters X TEKKEN Crossover Coming to KOF All-Star,
(6-20-2019): TEKKEN 7 Celebrates 4 Million Copies Sold Woirldwide
Related TFG Links: TEKKEN 7, TEKKEN Tag 2, TEKKEN 6, TEKKEN 5, TEKKEN 4, TEKKEN 3

✔ FOLLOW FIGHTERSGEN ON: