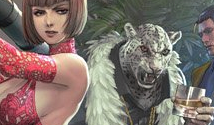 Today, Bandai Namco and series creator Katsuhiro Harada announced that TEKKEN 7 has sold 4,000,000 copies worldwide since its June 2017 release on consoles. The arcade version of TEKKEN 7 launched in Japan in 2015, which originally helped fund the home release. Now one of the best selling and most competitively successful installments in series history, TEKKEN 7 has far exceeded expectations. To celebrate the occasion, Namco released this updated version of Takuji Kawano's beautiful "Celebration" poster illustration (below).

If you're familiar with this original 2D illustration (and you should be), you'll notice some brilliant "new additions" to this amazing poster artwork. Namely, Season 2's Anna Williams, Armor King, Lei Wulong, Craig Marduk, and Julia Chang are now featured in the celebratory group photo.


For comparison, below is the earlier version when TEKKEN 7 surpassed 3 million copies. You might also notice Lord Harada himself has repositioned himself in the new version.


Congratulations to Bandai Namco for making an awesome fighting game (and one of my personal favorites of all time).

Fun Facts: TEKKEN 7 is the third most entered game at EVO 2019 this year. TEKKEN 7 is also the only game at EVO over the past 4 years to continually increase its player numbers.

In related news, here's a video documentary titled "Road to King of Iron Fist" by the Hold Back to Block team that covers some events from TEKKEN 7's North American tour in 2016.


Stay tuned on FightersGeneration.com for upcoming TEKKEN 7 news.