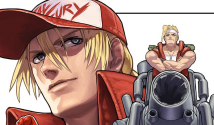 A new official SNK art book has been revealed and is now up for pre-order on Amazon Japan. Celebrating the company's 40 year history, "SNK Anniversary Fan Book" will be released in March 2020. The cover illustration is the latest by veteran SNK artist, Eisuke Ogura, and features some of SNK's most recognizable characters (and perhaps also some unrecognizable) from the company's rich history. (My favorite part of the illustration might be Ralf Jones and Clark Still in their original Ikari Warriors attire.)

The retail price for SNK Anniversary Fan Book is 4,950 Yen (about $45 USD).


Stay tuned on Fighters Generation for more SNK news.