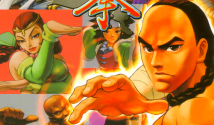 The 1999 Taiwanese-developed 2D fighter, Martial Masters, finally has a home here on Fighters Generation! (And was by far one of the most requested games to be added to the site by fans!) Although an obscure title with a very limited release in arcades only, Martial Masters is known for its fluid animation, sharp 2D graphics, and intriguing character designs that take inspiration from famous Hong Kong martial arts films, such as: Once Upon a Time in China, Drunken Master and Operation Scorpio. Not only is TFG's profile for Martial Masters now online, but ALL character profiles are live as well - complete with gorgeous Animated GIFs!

In addition, TFG's profile for Martial Masters already features several full Art Galleries to browse through (with more content coming soon).

Welcome to TFG, Martial Masters...


Stay tuned on Fighters Generation for the best online fighting game content!