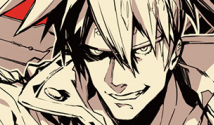 It's officially 2020... first of all, Happy New Year!

This year, we will be getting several new (and potentially great) fighting games - one of those being an all new Guilty Gear title. To say Happy New Year to fans on Twitter, Arc System Works shared a Guilty Gear -STRIVE- Sol Badguy illustration drawn by female artist, Konomi Higuchi. One of Arc System Works' premiere artists, Konomi is known for her charismatic and vibrant BlazBlue character designs and 2D illustrations. Take a look at Konomi's Sol Badguy Happy New Year 2020 illustration below!

In related news, the next character reveal trailer for Guilty Gear -STRIVE- will debut two weeks from now at Frosty Faustings, January 17-18, 2020.


Also check out TFG's newly created Guilty Gear -STRIVE- profile.

Stay tuned on Fighters Generation for Guilty Gear -STRIVE- news & announcements!