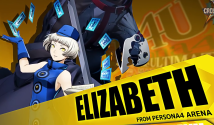 In addition to Akatsuki & Blitztank from Akatsuki Blitzkampf, Yumi from Senran Kagura, and Neo Politan from RWBY, 5 new characters will be joining BlazBlue Cross Tag Battle "Version 2.0" on November 21st, 2019. Just hours ago, Arc System Works debuted a new trailer revealing the new (returning) fighters from BlazBlue, Persona 4 Arena and Under Night In-Birth, including: Celica A. Mercury, Elizabeth, Adachi, Hilda & Susanoo. The Ver. 2.0 Expansion Pack will be released Nov. 21st for $24.99, adding 9 new DLC fighters to the roster.


[UPDATE] Additionally, below is another new trailer (in Japanese) showing new gameplay footage and features for BlazBlue Cross Tag Battle 2.0 / Special Edition.

Additional details will likely be revealed at (or before) the ArcREVO World Tour Finals (Nov. 16-17). Stay tuned on Fighters Generation for full coverage of BlazBlue Cross Tag Battle.