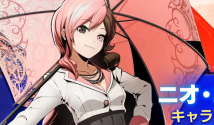 Today, Arc System Works debuted a new gameplay trailer for one of the 9 new DLC characters coming soon to BlazBlue Cross Tag Battle. RWBY's Neo Politan demonstrates her unique style of fighting utilizing her umbrella with a concealed blade (not unlike Shizumaru from Samurai Shodown). The quick 1-minute gameplay trailer (below) provides a quick rundown of Neo Politan's special moves and how to perform them.


Last week, Arc System Works uploaded a similar gameplay trailer for Yumi from Senran Kagura. Here it is below in case you missed it earlier.

Stay tuned on Fighters Generation for full coverage of BlazBlue Cross Tag Battle.