Uploaded on June 12th, 2013

Conan Plays Injustice: Gods Among Us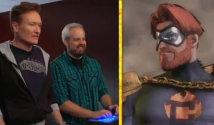 In June 2013 on Conan O'Brien Show, Injustice was featured on a segment called "Clueless Gamer". During the segment, General Zod, the 4th DLC character for Injustice was revealed. Whether or not this interests you, it's a pretty funny segment worth watching.

NetherRealm Studios even went through the trouble to create an alternate Superman costume based on Conan's comic book character, "The Flaming C". Enjoy the full 6-minute segment from the Conan Show above.
.