GENERAL/STORY:
Tanya is the daughter of Edenia's ambassador to new realms. As a teenager she began experimenting with bizarre rituals in the worship of the fallen elder god, Shinnok. A few years later, during one such ritual, she caught the attention of the Netherrealm sorcerer Quan Chi. Quan Chi contacted her to find out who she was. As he spoke to her she was quick to pledge her loyalty to Shinnok.
ORIGIN:
Mortal Kombat 4



.

.
.
OTHER APPEARANCES:
Mortal Kombat Gold, Mortal Kombat Deception, Mortal Kombat Armageddon

.

.

.

.

REVIEW:
I can't determine whether Tanya is supposed to be some sort of super-hero, or yet another ninja chick clone... Anywho, didn't Midway already make this design in green? *cough Jade *cough*. Hmm, I suppose they didn't have a black ninja girl wearing "yellow" spandex, so I guess that's where Tanya comes in.

Not only is her default outfit quite boring & generic, her moves are too. Midway forgot to create a personality for her as well... yep, she's a total space case. Yeah... cool stance too. Like 6 other characters from MK4 had that stance... original indeed.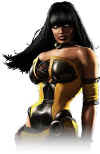 .

.

.

Fighting Style / Moves
Personality / Charisma
Outfit(s) / Appearance
Effectiveness in series
Overall Score