GENERAL/STORY:
Suija is a demon who took over a random ninja of the Kazama clan. Eventually, he is sealed in Sogetsu's weapon. He is not the same person as Sogetsu.



.
.

.

ORIGIN:
Samurai Shodown 5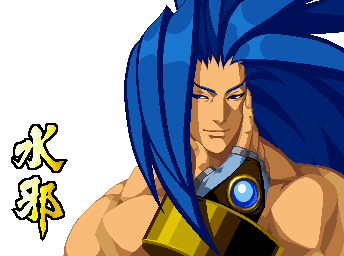 OTHER APPEARANCES:
Samurai Shodown 5 Special, Samurai Shodown 6, Card Fighters Clash DS

.


REVIEW:
Suija is a girly-man if I've ever seen one... and he's definitely a weird character, even for the series. He has a memorable stance and a few cool moves, but as a sprite clone of Sogetsu, my respect for his design goes down a few notches. Still, I don't see what's so "samurai" about this guy. He appears to be a God-like, which I don't think compliments the series very well. :/

Fighting Style / Moves
Personality / Charisma
Outfit(s) / Appearance
Effectiveness in series
Overall Score

.

.

.
.

.

.