GENERAL/STORY:
Reiko was once a general in Shinnok's army. He helped wage war against Shinnok's fellow elder gods. Reiko was originally from Outworld, but agreed to help Shinnok, believing he had the ability to defeat the other elder gods.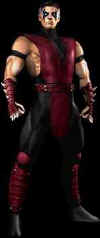 .

ORIGIN:
Mortal Kombat 4



.

.

OTHER APPEARANCES:
Mortal Kombat Gold, Mortal Kombat: Armageddon



.

REVIEW:
He had a cool finishing move in MK4, but his original outfit was quite "unoriginal." Easily classified as yet another "ninja clone" to add to the collection. His look changed quite a lot in his MK: Armageddon appearance and his new look isn't bad... but kinda boring at the same time, even for Mortal Kombat.

Fighting Style / Moves
Personality / Charisma
Outfit(s) / Appearance
Effectiveness in series
Overall Score