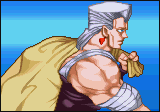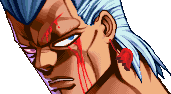 Polnareff's sister was raped and killed by a stand wielder with two right hands. His mission for revenge had led him to Dio's lair where Dio brainwashed him into attacking Jotaro. The heroes defeated him and destroyed Dio's influence. Polnareff then joined the group, hoping to find the one who slayed his sister.

Early on, he found that man, J. Geil, who was working as one of Dio assassins alongside Hol Horse. Though Abdul almost died, Polnareff finally got his ultimate revenge and killed J. Geil. Later on, he defeated a swordsman named Chaka. When Polnareff took Chaka's Anubis sword, he momentarily became evil and attacked Jotaro. He lost and went back to normal. The Frenchman stuck with the Jojos and fought alongside them against Dio Brando. His stand, the Silver Chariot, is a knight with a fencing sword that moves incredibly fast.

On a side note, Benimaru Nikaido's design is visually based on Polnareff.

| | |
| --- | --- |
| | Updated: December 23rd, 2012 |

I don't know a lot about Polnareff, but from a fighting gamer's perspective; it's pretty clear that Polnareff inspired the likes of Paul Phoenix and Benimaru with his hairstyle. In the game, Polnareff is pretty cool bloke (along with his stand) and is a fun character to use.

Fighting Style / Moveset
Personality / Charisma
Outfit(s) / Appearance
Effectiveness in series

Overall Score