GENERAL/STORY:
A young witch-in-training who enters the KOF tournament to test her own might and help create world peace. She also speaks in third person, and her powers are somewhat similar to those of Athena... That's funny, because her voice is just about as annoying as Athena's. Ninon is her sister.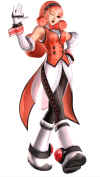 .

.

ORIGIN:
King of Fighters: Maximum Impact



.

.

.
.

OTHER APPEARANCES:
King of Fighters: Maximum Impact MANIAX, King of Fighters: Maximum Impact 2, Card Fighters Clash DS



.

.

REVIEW:
And I thought Athena had an annoying voice... To me, Mignon defines the word annoying. Although I can see why she might appeal to some gamers (more specifically female ones), she doesn't really seem to fit into the KOF series, she doesn't look like a fighter, and she's named after a cut of meat. I like my Mignon rare. The KOF series already has one over-energetic female popstar (Athena)... We don't need another one.



Fighting Style / Moves
Personality / Charisma
Outfit(s) / Appearance
Effectiveness in series
Overall Score