GENERAL/STORY:
Not much is known about D.D. since Capcom Fighting All Stars was cancelled. Will we ever know what his initials stand for?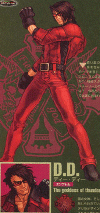 ORIGIN:
Capcom Fighting All Stars
OTHER APPEARANCES:
---
REVIEW:
D.D. seemed like he could have been a cool character... The "positive" and "negative" symbols on his glove kinda intrigues me, I wonder what that's all about. I also wonder if he'll ever return in a future Capcom game, of if Capcom flat out dropped this design.

I'm also pretty sure D.D. had a punch similar to the Electric Wind God Fist... Hmm, was D.D. was going to be a Tekken inspired character in a Capcom fighting game?

Fighting Style / Moves

Personality / Charisma
Outfit(s) / Appearance
Effectiveness in series
Overall Score

Not Yet Rated